Skip to Content
We Have 30 Years of Experience Performing HVAC Retrofits
Horizon Mechanical Services LLC approaches each project with a detail-oriented mindset. Our clients range from local and federal government buildings to international airports, so we have learned to be adaptable when working with HVAC Retrofits. When you click on services tab our federal clients and facility managers bank on our 30 years of experience for maintaining their facilities HVAC and value of their real estate.
Why Should I Retrofit My HVAC System
Retrofitting provides enormous benefits to you and your building. Retrofitting enables you to improve your HVAC system without committing to a total replacement project. The benefits of retrofitting a chiller, cooling tower, or boiler include:
Energy Savings
Retrofitting an aging HVAC system is a quick way to resolve chronic high energy consumption. You can reduce your building's energy consumption by up to 40 percent.
Increased Lifespan
Whole system replacements are not always feasible for our clients, but retrofitting can still extend the life of your HVAC system for several years.
Flexibility
Building occupants change all the time, and their needs change with them. Retrofitting old or damaged parts allows you to adapt to evolving tenant needs without a new system.
Improved Performance
Whether you need a high-performance HVAC system to keep customers and employees happy or to keep valuable assets in good working order, retrofitting is an excellent way to do so.
Prevent Issues Before They Arise
Disruptions in heating and cooling can be catastrophic for your business. Retrofitting older parts with new ones can help head off any potentially disruptive issues.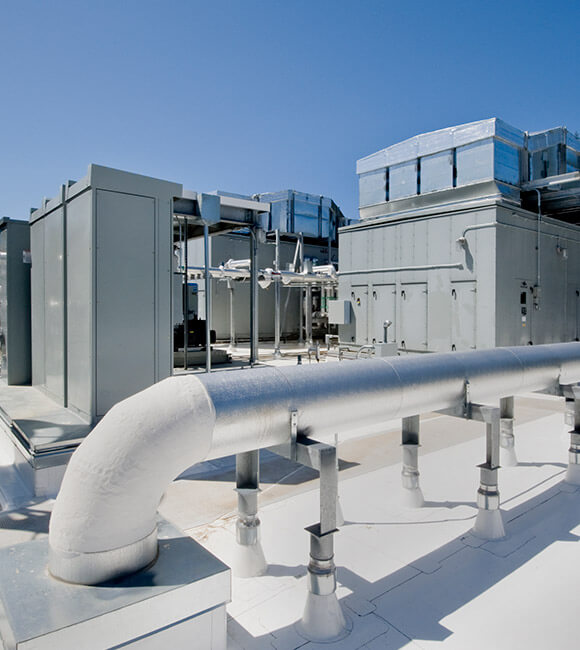 We Tailor Our Service to Each Customer
Retrofitting encompasses a broad range of services, depending on the age, make, and model of your system. We recognize that each of our clients' needs are different. That realization enables us to tailor our services to you and find the best solution to your issues. Our retrofitting solutions include:
Chiller replacements
Air handler and coil replacements
Boiler replacements
Heating and cooling systems
Variable frequency drives upgrades
Energy management systems
BAS (pneumatic to DDC upgrades)
Power burner systems (gas and oil)
Power burner conversions (oil to gas)
Pipe tapping and hot tap services up to 2"
Pipe freeze seals up to 8"
Centrifugal pump repair and rebuilding
Shop press machine services up to 40-ton capacity (bearing and seal replacement)
Specialty valves and steam station repair
Ask Us About Available Rebates
Because retrofitting your HVAC system often results in increased energy-efficiency, rebates usually cover portions of the cost. These rebates incentivize companies to find environmentally-friendly solutions to the energy their offices consume. Horizon Mechanical Services LLC is here to answer any questions you may have about potential rebates.
Take the First Step to a More Efficient Cooling System